The damages available from the NYSDHR are mitigated backpay, compensatory damages, reinstatement to your former job and, in certain cases, counsel fees.  Backpay is the last wage you would have earned from your employer, if you were not terminated, calculated through the date of your hearing.  Mitigated backpay means that you must subtract whatever earnings you made from the date of your termination to the date of your hearing.  This includes earnings from other employers and Unemployment Insurance.  It is important that you engage in a job search, and be able to document your job search at the hearing, in order to be awarded backpay damages.
Compensatory damages are for pain and suffering.  "Garden variety" compensatory damages – based solely on the Complainant's testimony – range from $5,000 to $15,000 in damages.  If a Complainant presents medical records from a physician or therapist, or expert testimony, the amount of compensatory damages could increase.
The NYSDHR rarely awards reinstatement.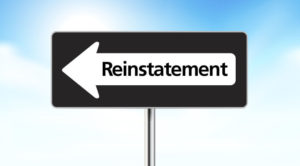 In addition, not only your employer, but an individual who has the authority to hire and fire, and control the employer's business, or an individual who aids and abets the employer in discrimination, may be held personally liable under the NYSHRL. The NYSDHR may assess civil fines and penalties up to $50,000 where the employer was found to have committed an unlawful discriminatory act, or up to $100,000 by an employer found to have committed willful, wanton or malicious act of discrimination. These fines are paid to New York State.
Counsel fees are available in cases filed after January 19, 2016, where a Complainant prevails on claims of sex discrimination.